RadioWorld at AirplayExpress Presents 'AirplayExpress Top 20'
The following Radio Shows are Only Available for Download to Radio Stations Worldwide
 Radio Station's Please note to download the show below for your radio program list
Click on the Radio Show Title Below To Download and press play to listen on player
AirplayExpress would like to thank David Tyler for presenting the very popular AirplayExpress Top 20 for the month of August 2016.
David who now lives in Nashville, Tennessee is also a member and vocalist of the very popular group, Blended 688. As a songwriter David has written many songs and lately uses his songwriting talent to write songs for his group. David not only excels in his vocals and songwriting abilities he is also an accomplished musician and backs up his vocals and position in his group by playing guitar. Due to a gap between AirplayExpress Top 20 Disc Jockeys, David has stepped up to the Radio DJ microphone and decided to try his hand at being a DJ too. David will be the host of for the AirplayExpress Top 20 for the month of August 2016, and then when Ed Daily takes over in September 2016, David will hopefully be presenting the new AirplayExpress Independent Superstars Show, if his time out from his very busy schedule allows for that. Hope y'all enjoy David's show's and please if you download his Top 20 shows please drop us a mail and tell us. So many download our shows and never tell us. We want yo to download the shows but we also want you to let us now, it makes us feel good to know that you have our show and that you are playing it. in your car, in your truck, on your plane, in your boat, on your horse, on your home system or on your computer, Ipad, iphone, tablet, mp3 player, radio station and whatever else we all listen to music on these days, thank you for David Tyler and AirplayExpress.
Click the Radio Show Title in blue Below To Download & press play to listen on player
David Tyler The August 2016 Host of The AirplayExpress Chart Show
LATEST TOP 20 PLAYLIST BELOW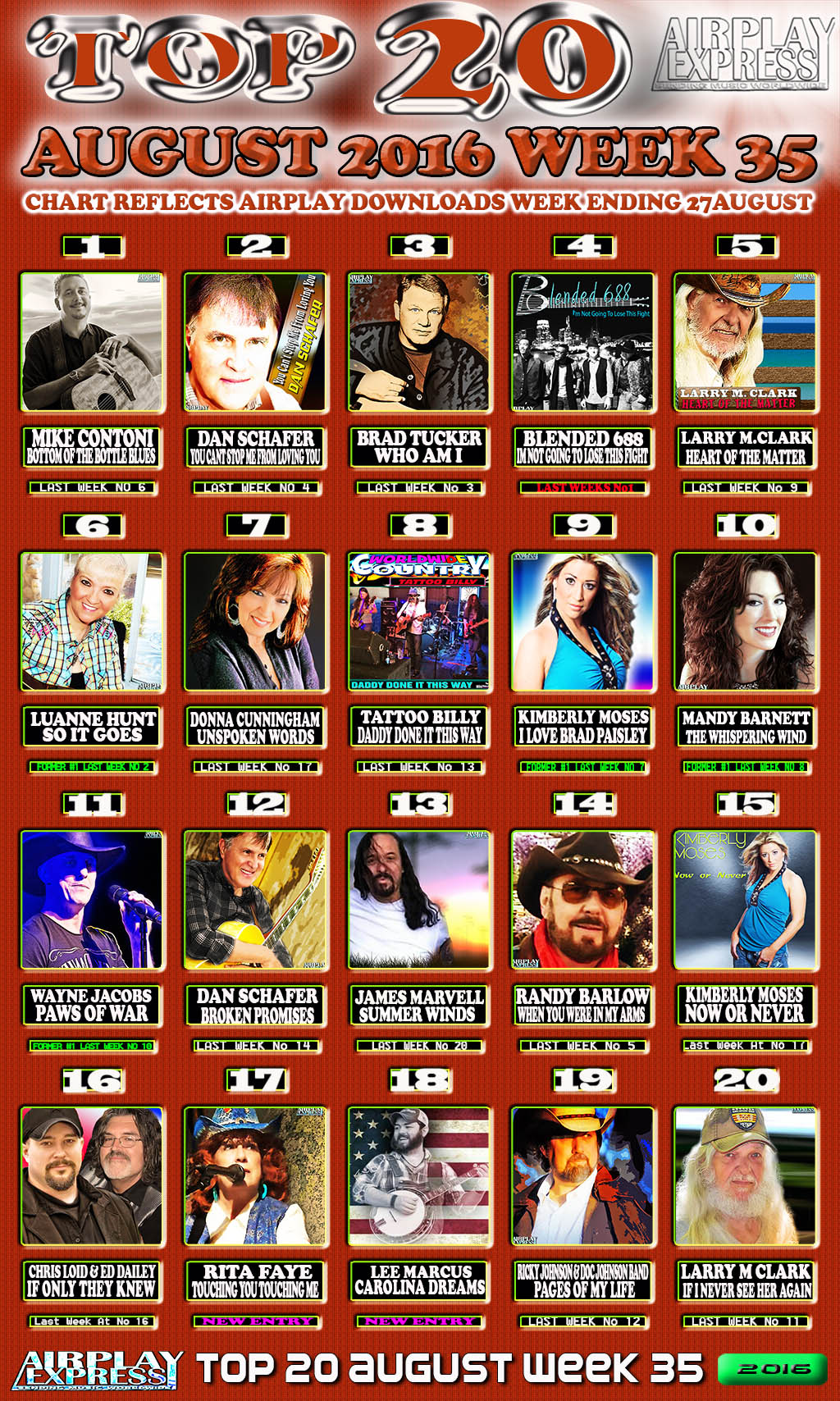 Your Host on the popular, "AirplayExpress Top 20 Music Chart Show" David Tyler. A new Top 20 will be added weekly for Radio Stations worldwide to download for program scheduling. To feature your radio shows on RadioWorld at AirplayExpress contact us now whisnews21@aol.com
These Radio Shows are featured here for Radio Stations Worldwide to download from RadioWorld at AirplayExpress. If you have come here to download the Top 20 chart Shows, please take the time to give credit to the DJ and artists featured by commenting on their Radio Page. DJ's if you want your radio shows featured here contact us now at airplay@whisnews21.com and we will get it done.
For more News on The AirplayExpress Top 20 chart show Click the WHISNews21