Disc Jockey's Please note to download the hits below for your radio playlist
Click On the Song Titles below to download a CD Quality mp3 for your playlists
AirplayExpress APX#9 Now Available 4 Worldwide Airplay
AirplayExpress is proud to release its 9th Radio Airplay Compilation to Radio Worldwide. With some of the greatest International Independent Superstars on this planet joining us on this flight we are honored to present the following Country Superstars to you, Kimberly Moses,Wayne Jacobs, Dan Schafer, Ricky Johnson & The Doc Johnson Band, Larry M.Clark, Mike Contoni, and Luanne Hunt plus two very special songwriters Barbara Blevins,Mandy Barnett (Transferred from IDSS),Keith Bradford, Vic Holdroyd and Steve Owen. Now that all our special guests are finally seated in the VIP section of APX#08, we are finally preparing this AirplayExpress for our latest adventure into the unknown seeking out friendly DJ to respectfully offer our Superstars Hit music too.
As AirplayExpress launches its Ninth Express link to Radio and DJ's worldwide, our mission is to seek out friendly DJ's across the vast space of the galaxy's to add these great songs to their amazing radio playlists for airplay
Disc Jockey's Please note to download the hits below for your radio playlist 
Click On the Song Titles below to download a CD Quality mp3 for your playlists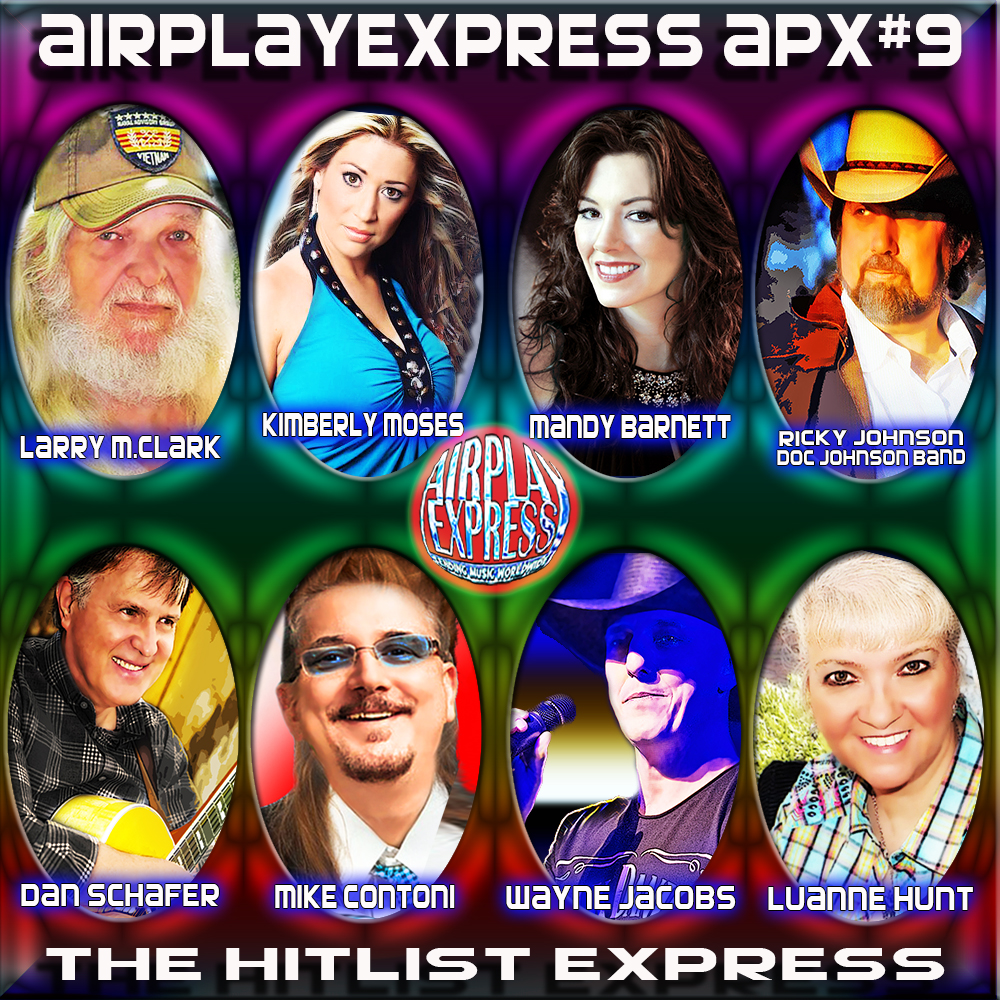 The Artists below are now ready to perform for y'all in no particular order
Click On the Song Titles below to download CD Quality mp3 for your playlists
If your browser does not allow you to click & download then right click & "Save Target or Link As" to download, depending on which browser you use.
The following Videopix were produced for AirplayExpress by Wildhorse Entertainment
 Dan Schafer – Broken Promises [Barbara Blevins/Keith Bradford/Dan Schafer] (HD)
Mike Contoni – Here I Go Again [Mike Contoni] (HD)
Dan Schafer – Broken Promises (HD) Coming Soon In Production
 For more information on producing your own VideoPix in HD, mail us at airplay@whisnews21.com

These Fresh Hits Now Available For Worldwide Airplay